Smart Home Security That Works For You, 24/7.
When it comes to securing your home & family, Avalarm Security designs home security & automation systems that provide piece of mind at a price you can afford.
More than a smart app or a cool thermostat, our home security systems seamlessly connects the key devices in your home on one platform — so they work together and work smarter. Each system is easily customized to your home's unique configuration and your needs.
Experience The Interactive Home Security Tour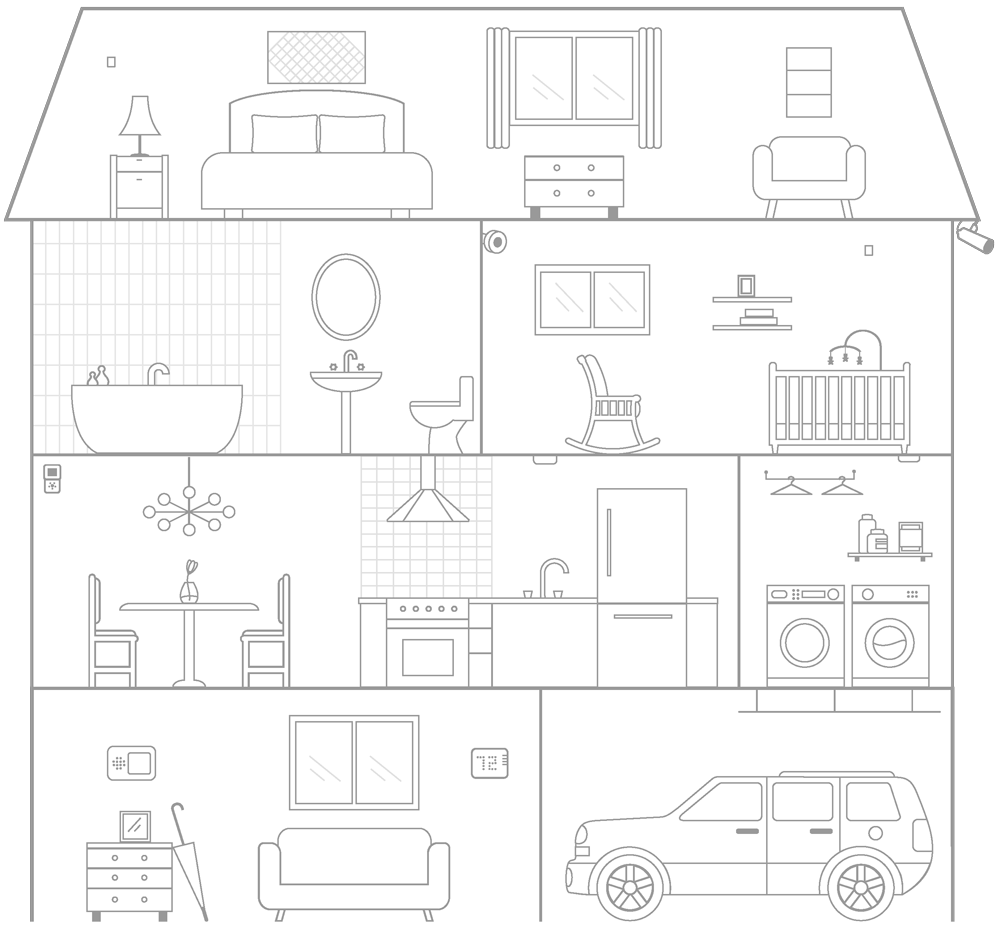 Smart Lights
Manage lights with automatic schedules, and set rules to have lights automatically turn on in an alarm event for added visibility and safety.
Window Sensors
Window sensors can notify you if a window is left open and communicate with your thermostat to help modify the temperature setting if left open for too long.
Water Sensors
Don't let water leaks go undetected. Get alerts if a leak is detected and avoid potentially costly water damage.
Indoor Cameras
Keep an eye on what matters to you. Peek-in to watch live streaming video anytime, get video alerts if a specific activity occurs, and watch recorded clips – all from your app.
Motion Detectors
See what's happening when motion is detected. The image sensor snaps a picture and sends it to you, so you'll know what's happening.
Smoke & CO Detection
Protect your family with safeguards for dangerous conditions. In the event of fire, the system signals for emergency response. If carbon monoxide is detected, it shuts down the HVAC to limit the circulation.
Security Panel
With a variety of panels to choose from, you can take advantage of features such as two-way voice for emergency response, and severe weather alerts that notify you if dangerous conditions are detected nearby. Alarm.com's Crash & Smash technology ensures that your system will still work even if the panel is smashed.
Doorbell Camera
See who's at the door with live video and two-way voice. If you're not home, you can speak to your visitor and even unlock the door for your trusted guests.
Access Control
Eliminate the need for keys with smart locks. Give each user their own lock code, remotely lock or unlock the door through your app, and get a notification whenever a user unlocks the door.
Smart Thermostat
You can keep the family room comfortable on the weekend, make sure the nursery is exactly the right temperature at naptime, and have the whole house drop to a savings setting when nobody is there. The Smart Thermostat uses all the security sensors around the home so it can automatically respond to different conditions and activities.
Smart Garage Door
Always forgetting to close the garage? Get an alert if the garage is left open, and close it from your app.
100% Wireless - No Phone Line Needed!
Welcome to a better, smarter, 100% wireless security system that goes with you wherever you go. Modern home security systems have come a long way in the last few years, keeping up with innovations in smart devices, wearable tech, and touchscreen technology.
CELLULAR SIGNAL

Built-in wireless signal. No phone line needed.

2 WAY VOICE

Speak to the emergency operator right through the keypad.

MOBILE APPS

Free mobile apps for iOS or Android smartphones & tablets.

APPLE WATCH

Your security - right on your wrist! Also compatible with other connected home apps like Alexa.

TAMPER PROOF

Alarm sounds even if the keypad is smashed.

LOCAL SUPPORT

We're a part of your community and are available for service and support when you need it.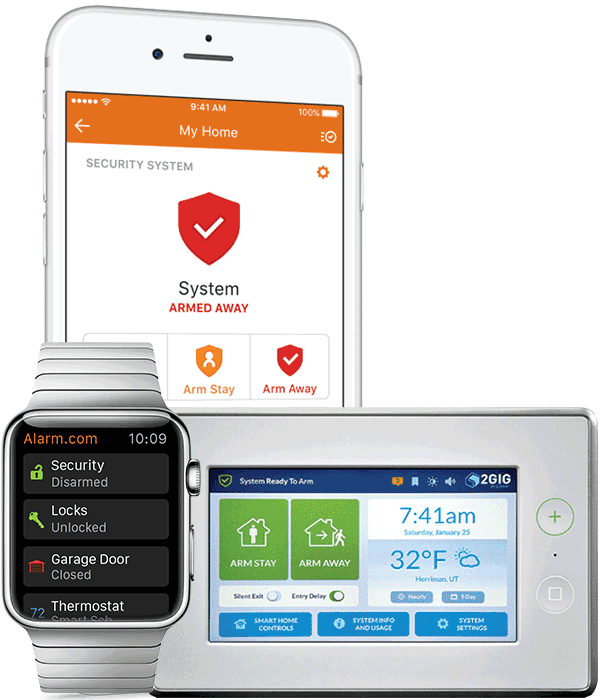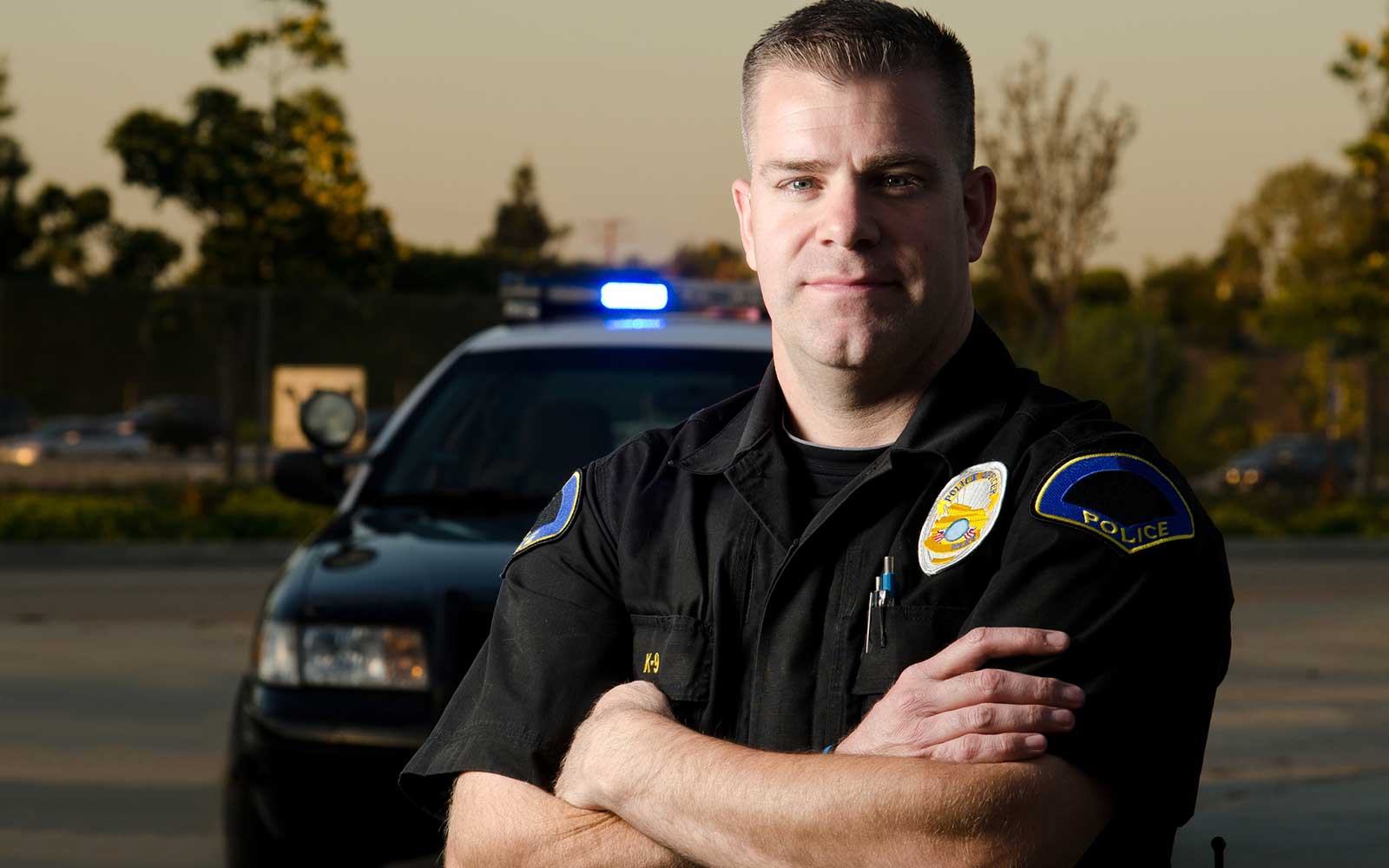 24 / 7 Home Alarm Monitoring
With 24/7 home alarm monitoring services you get the immediate help you need in the event of alarm activation - even if your phone line is cut, the power goes out, or the alarm panel is smashed. Certified, highly trained agents are always standing by at the UL listed central station, ready to respond and assist when your alarm activates and dispatch first responders in the event of an emergency. 
The Real Sign of Home & Business Security In Greater St. Louis County, MO.
We have over 27 years in the security and communications industry. Having worked both inside and out of the corporate world, we offer the industry's best practices with a dedication to service that no national company can match. 
Contact us today for a free in person consultation.